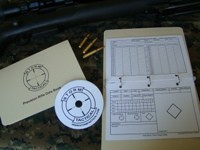 Storm Tactical "Heavy Paper" Modular Data books are printed on extra heavy duty 90 Pound Index Card Stock paper, in an easy to read size of 5.5" x 8.5" (half of an 8.5" x 11" sheet of paper).

The book uses a 3 ring poly binder, which allows the shooter to organize the book to his/her specific needs. These books can be used with Rite in Rain waterproof pen, sharpie fine point pen, sharpie extra fine point marker, uniball 207 style pen or other smear-proof pen, or pencil.

Storm Tactical Heavy Paper Modular Data Books contain 180 pages, including: Come-ups (10), Cold Bore / Zero (20), Zero / Calls (20), Head (4), Barricade Suspect (2), Hostage (2), Stationary Torso (34), Blank (14), Movers (16), Unknown Distance / Long Range (20), Range Card / Field Sketch (8), Sniper Observation Log (4), Round Count (8), Information Pages (13), and Notes Pages (3).

Includes free CDROM which contains a 19 page User Manual and printable targets.Targets print on standard printer paper and match the target pages in the Data Book.