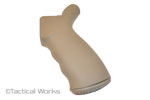 ERGO Suregrip AR15/M16 Grip Kit Dark Earth
The original Ergo Grip, developed by Steve Hines, was the first truly ergonomic, shooter focused grip for AR platform rifles. Designed for performance by creating a better interface between the shooter and firearm, the Ergo Grip is still the standard by which positive grip and shooter comfort are measured. The Ergo Grip comes with the patented Gapper for increased comfort.
4011FDE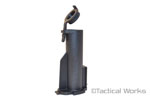 Adjustable Grip by Long Shot Precision
The Precision Grip by Long Shot Precision is a Game Changer!
The LSP Adjustable Grip allows the shooter to select the proper height insert to place the trigger finger properly and consistently on the trigger.
Made in the USA