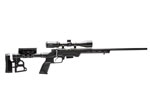 LSS-RF Gen2 Tikka T1x Chassis by MDT
The LSS-RF (Rimfire) Chassis is based on the popular LSS Chassis system for rimfire rifles. The LSS-RF also fits 17 HMR or 22 WMR versions.
MDT-104321-BLK
**Chassis only. Buttstock, grip, magazines, etc are not included.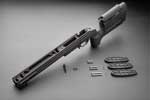 Tikka T1x Rimfire Bravo Chassis by KRG
KRG's Bravo Chassis provides you with the essential chassis benefits combined with conventional target/varmint ergonomics all at a modest price.
Made in the USA
BRVO-T1x-BLK