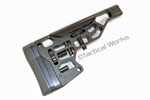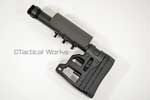 Skeleton Carbine Stock by MDT
The Skeleton Carbine Stock (SCS) was designed to allow maximum adjustability while minimizing weight.
Compatible with all MDT Chassis, as well as AR platforms.
MDT-SCS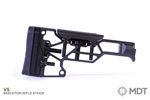 Skeleton Rifle Stock V5 by MDT
MDT's Skeleton Rifle Stock V5 is designed to increase your performance and comfort by enhancing adjustment possibilities to suit your preferred shooting position. Adjustments can now be down without any tools with the set screws replaced by thumbwheels.
MDT-SRS