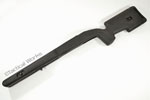 Remington 700 SA Tactical Stock Inletted for Magpul Hunter Magazine Well by Choate
The Choate Tactical stock for Remington 700 Short Action Rifles inletted for the Magpul Hunter Magwell.
This Tactical Stock fits the Remington Short Action rifles with action screw spacing of 6.500" to center of the action screws.

The Choate Savage Tactical Stock is quickly becoming the solution for an affordable, bullet proof, replacement for the Remington rifles.
Choate 25-01-13
$205.00
Suggested Retail: $283.50 save 28%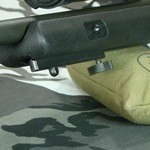 Choate Bipod Adaptor "T-bar"
The "T" bar is Choate's solution for a rapid mounting point for Harris bipods and other swivel mounted accessories.
Many shooters like to pack at least two sizes of bipods, short for prone and tall for sitting. The "T" bar lets you quickly change out bipod lengths with a twist of the 1/4-20 thumbscrew.