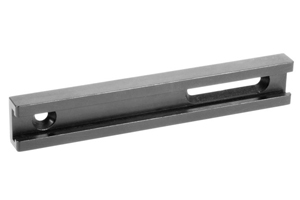 The Mystic Precision T-Rail is an adapter to allow you to use sling stud or M-LOK installation of the MPOD (Mystic Precision Bipod).
To use with sling stud you will need two holes in your stock. To use with M-LOK you will need to make sure your backer plates accept 10-24 or 10-32 screws. You may also use a washer and nut to secure the rail in place.
Available in short or long.
Short measures 3.596" with screw spacing of 1.5" to 2.6" center to center
Long measures 4.595" with screw spacing of 2.5" to 3.6" center to center
Rail includes (2) 10-24 flat head screws and (2) 10-32 flat head screws