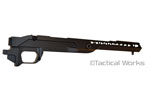 Orias Chassis for Remington 700 Long Action "T2" by Mega Arms & Killer Innovations
Mega Arms and Killer Innovations have teamed up to manufacture the most technologically advanced chassis system available on the market today. The Orias Chassis.
This Orias Chassis has the removable rear Type T2 Trunnion to accept buttstocks that do not have the lower 1/2" diameter locating pin. This trunnion is designed for buffer tube style buttstocks that use a locking nut. The trunnion has a small set screw that locks and indexes the buffer tube into position. The type T2 Trunnion accepts grips with a beavertail.
Made in the USA
MAKI-KMRLA-T2
$599.50
Suggested Retail: $808.00 save 26%